Printed from
'Mobs were hunting for people from Bihar, UP'
TNN | Oct 10, 2018, 01.05 AM IST
NEW DELHI: The Sabarmati Express chugged into Lucknow's Charbagh station. It was past Monday midnight and most passengers were groggy. But not Raj Kumar Nishad. Memories of his life in Gujarat had kept him awake.
Sitting on the floor in the general compartment, Nishad wept. "I was punished for no fault of mine," he said. "I lived with my wife and two children, one 10 and the other 12, in Vadodara. After the attacks began, mobs of men started patrolling the lanes and bylanes of the city, hunting for people from UP and Bihar. I first had to stop my kids from going to school. On Saturday, my factory in-charge announced that migrant workers should leave and wait for the situation to normalise. I came back home, packed my bags and ran." Many other passengers shared similar stories.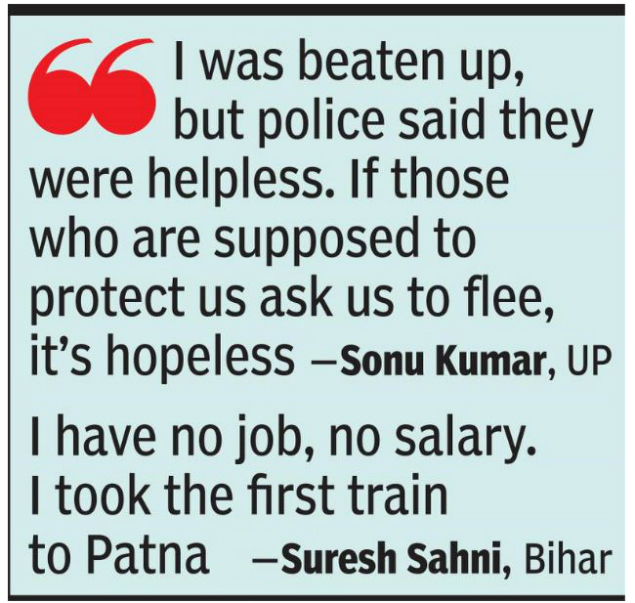 Packed in buses, trucks and trains, Hindi-speaking people working in Gujarat have begun returning to their native places in MP, Bihar and UP following attacks on them sparked by the rape of a toddler on September 28 by an "outsider". Hounded and persecuted, some 50,000 are believed to have already left places like Ahmedabad, Vadodara, Himmatnagar, Mehsana, Anand, Panchmahals and Sanand.
Sonu Kumar, 19, said even cops these days advise workers from outside to return home. "If those who are supposed to protect us ask us to flee, it's hopeless," he said.
Far away in Bihar, Suresh Sahni, who has to get down at Khagaria, said he had booked train tickets for November 10 to celebrate Chhath. "But what's there to feel happy about now, '' he asked. "I have no job, no salary. I took the first train I got to Patna."
Mohammad Karim, 37, said his body still hurts from the blows a group of men rained on him. "I had never been so afraid before," he said. "On Saturday, as I was returning from the factory in Mehsana where I worked, a mob surrounded me and asked about my native place and language. When I said 'I'm from Bihar', they thrashed me and asked me to leave Gujarat before October 12."